A Man of Our Dreams
July 28, 2022
He wanted to become the best cat father in the world, and he has managed to do this!
"An awkward move, and you're a father," Mikhail Zhvanetsky once joked. Paris Zarcilla is unlikely familiar with the art of the legendary Soviet satirist, but everything turned out in this very way in his life. However, the London director and screenwriter became a father not for children, but for... cats. But for many cat children at once!
First things first. Paris had lived alone until that memorable day. One fine evening he went into the bedroom to get a sweater and heard a quiet "meow". Having looked under the bed, the guy found a cat there. And not just a cat, but with newly born kittens, four at once. The cat had probably got into the house through the back door, which was accidentally left open by the owner (that was that very awkward movement), and she liked it so much that she decided this was a good place for her and her kittens.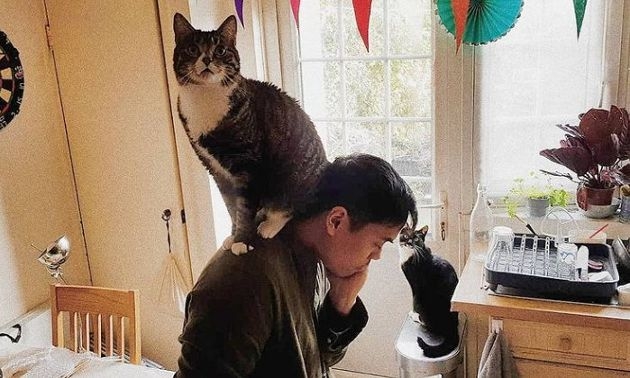 "Shock is what we like! (note: this is a slogan of a Russian chocolate)" thought Mr. Zarcilla when he saw the guests. Or not, because it's unlikely that he has ever seen commercials of Russian chocolates. But he was shocked for sure. However, he did not expose the cat family to the street. Moreover, in his social networks he shared his fears that sooner or later he would have to part with fluffy guests, because they were probably "someone else's".
But no one ever came for the cat and kittens. Paris had to use all his literary abilities and come up with names for all five cats. And began co-existence with the feline family, or rather, with its representatives. Later he admitted that he was not ready for "fatherhood", but was going to become the best "cat daddy" in the world. And he managed to do this: he takes care of his pets like a real father – well, just a man of a dream for every woman who loves cats! The cats, by the way, have been living with Paris for almost three years, and are not going to leave him at all. They are clearly happy here.
The young man himself feels quite good as well. Perhaps he could quote Charles Bukowski: "Having a bunch of cats around is good. If you're feeling bad, just look at the cats, you'll feel better, because they know that everything is, just as it is. There's nothing to get excited about. They just know. They're saviors". He definitely read Bukowski…