Big Cats, Big Love
June 6, 2022
A unique photo project by American students
Do you know what brutalism is? No? It's okay, we'll tell you everything now. Brutalism is an architectural style that was popular all over the world in the 50s-70s of the last century. Someone considers it a symbol of courage and freedom, someone, on the contrary, reproaches it for being rude and primitive. One way or another, houses were built in this brutal style in America and Europe, Japan and the Soviet Union. These were administrative buildings (ministries, libraries, etc.), residential houses, and even monuments. "Enough lectures, let's talk about cats!" - you say, and you are right, because the style of brutalism and cats have recently got inextricably linked... Just look.
It all started in 2018, when the Shoreline Apartment built, as you guessed, in the style of brutalism, was demolished in the USA, in the city of Buffalo. This angered the students and teachers of the architecture faculty of the local university, and they decided that such an interesting architectural direction needed to be urgently saved. To do this, three students - Emily Battaglia, Madeline Ong and Michaela Chenay - created the Cat of Brutalism instagram account. Even if you don't speak English at all, you will understand the idea. In October 2020, the girls posted on this instagram a black and white photo of the library building built in Niagara Falls, New York. But not a simple photo, but decorated with... a huge cat!
It was not difficult: Photoshop rules the world. And cats, too!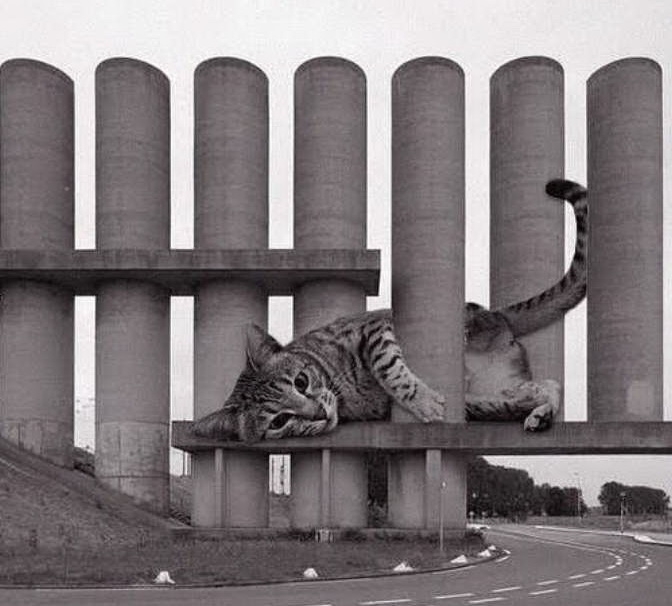 Since then, the activists have made cats friends of a variety of objects around the world. This is the Zizkov TV Tower in Prague, Czech Republic,
and Panorama Resort Hotel in Strbske Pleso, Slovakia,
and Stanbrook Abbey in West Yorkshire (England)
and a monument to partisans and miners in the Serbian city of Kosovska Mitrovica,
and the building of the Ministry of Roads of Georgia in Tbilisi,
and the Central Water Tower in Johannesburg, South Africa...
Russia was not forgotten either: for example, the House of Soviets in Kaliningrad
and the legendary Round House in Moscow.
The authors of the project consider these buildings to be masterpieces of architecture and want to challenge the misconceptions and stereotypes about brutalism. The question is, why are there cats? And everything is simple: to give them soul. To bring warmth into these forms, which are considered by many to be rough and cold.
"These buildings are distinguished by their clear structure and massive concrete block shapes. Cats play with pleasure thereon, sit, lie, climb, sharpen their claws. In addition, cats are warm and soft ¬– they smoothen severity of the buildings", the girls say. Well, you get the idea: they just love cats. As we are.
"Why are photographs exclusively black and white?" you ask. This is a good question, because this is not accidental at all: "Such a filter turns even funny photos into realistic ones. If you scroll quickly, these are just beautiful concrete buildings, but if you stop and take a closer look ... There's also a 15-meter cat on the roof!"
Another goal of the project is to help homeless cats: many photos are supplemented with links to shelters or fundraising for helping animals. By the way, the project also has its own website, where you can tell about the brutal buildings unknown to the authors, as well as offer a photo of your favorite cat. Let's join!